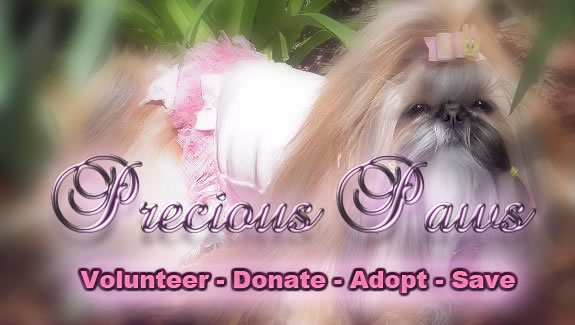 Our vision is to look forward to a world where millions of dogs and cats are not euthanized every year because their owners "no longer want them". Pets are not "disposable". We endeavor to provide shelter and healthcare for unwanted animals and to place them in loving, caring, permanent homes. We all must fight for animal rights legislation and anything else we can do to promote awareness of the desperate plight of animals in shelters.
It is amazing that what others see as "unadoptable", "aggressive", and "undesirable", we see as very special. Underneath every "fear biter" is an angel in disguise just wanting to trust and to love. Many times it takes an amazingly short period of time to turn even the most unsocialized dog into a loving and happy baby who forgot where they came from. Dogs are so incredibly resilient and we never cease to be amazed at their incredible courage, strength, and ability to trust again. What makes everything we do worthwhile is when we touch people and animals through the love that pet ownership brings. When we talk to our adopters and hear that the baby we saved and socialized has changed their life for the better in a way they could never imagine, we realize that we helped two lives. That is our true measure of accomplishment. We love all animals and people alike. We want this world to be a better place for both. We are continually fighting for animal rights legislation pertaining to all animals. The bigger picture is what will make the difference in the end. We firmly believe in mandatory spaying and neutering of every animal. The horrors of puppy mills, where pet store and most other puppies come from is literally hell on earth for these animals. Please, never buy your puppy from a pet store or breeder. There are just too many pure bred dogs of every breed, along with wonderful mixed breeds that need homes. These wonderful animals are being killed by the masses in shelters every single day, simply due to over population. Anyone considering breeding "just one litter" needs to understand that this means the demise of many more dogs sitting in a shelter somewhere waiting to die because their owner let their dog have "just one litter". There are already millions of dogs alive on this earth that have no homes and these animals far out number the human population. The mixed breeds, the black dogs, these are the ones that are so often overlooked in shelters. Please consider adopting one of those babies, they need you the most and their lives depend on it.
We strongly believe that mass euthanasia is not an acceptable way to control the pet over population problem in this country. We must do something to stop this. Until people in this country treat animals in a civilized and humane manner and mandatory spaying and neutering is enacted, the mass slaughter of innocent animals will continue.
Until every single animal is treated with dignity and love until it takes it's last breath, we will fight for those who cannot speak for themselves.
Changing the laws regarding methods of euthanasia, abolishing puppy mills, enacting and enforcing strict guidlines on all breeders, as well as securing mandatory spay and neuter legislation will be the only things that will make a lasting difference in the long run for these defenseless creatures at our mercy.



Every face we see in a shelter waiting to die is the face of every dog we have ever saved. No one is more special. They all have that innocent, vulnerable and incredibly loving spirit.
The millions that die every year deserved what our babies have.
Every little face we see, every eye of innocence that haunts our soul, is forever embedded in our mind and never forgotten.